Crash with a Fire Truck Injures One Person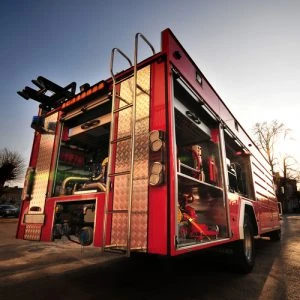 A Dallas Fire and Rescue engine and another motorist were involved in a two-vehicle crash in Oak Cliff that left one person injured on Tuesday afternoon.
According to spokesman for Dallas Fire-Rescue, Jason Evans, the accident happened around 12:00 noon, A Dallas Fire rescue engine had been heading southbound in the 2000 block of Fordham Road on the way to an emergency call involving a structure fire, the engine's lights and sirens on.
The fire engine was travelling behind a four-door vehicle, when both vehicles began to slow down. The driver of the fire engine thought that the car was going to yield to the emergency vehicle, when it instead turned in front of the fire engine, causing the accident.
As Evans explains it, even though the accident was at low speed, the sheer weight of the truck pushed the vehicle about 100 feet and into a utility pole, before the car and the engine came to rest in the yard of a nearby home located at the intersection of Easter Avenue and Fordham Road.
"Unfortunately with the weight of the engine, it does not have to be going fast to cause serious damage to whatever it comes in contact with," said Evans.
Evans said there was no damage to the house, and that the four firefighters in the engine were not injured.
Firefighters assisted in removing the driver from the car, who was communicating with rescuers at that time. Afterward, the driver was then taken to a nearby hospital where his condition remains unknown.
Dallas police closed the street down while Oncor tended to the downed power lines.
According to a spokesperson from Oncor, the power outage was limited to a small number of people and a replacement pole has been put into place.
Investigators are still looking into the cause of the crash.
Drivers of emergency vehicles share the road with other drivers. Like anyone else, police, ambulances and fire truck drivers all have the potential to cause accidents. Accidents involving emergency service vehicles can happen for any number of reasons. Some causes of such accidents may include driving at excessive speeds, reckless driving, inadequate training, hazardous weather conditions and driver distraction. No matter what might have caused an accident, the drivers of emergency vehicles are required to take certain precautions to ensure the safety of the public just like every other driver on the road. Even though emergency vehicles such as police cars and ambulances are not are not required to stop at all red lights when responding to an emergency call, their sirens and warning lights must be on. First responders, however, do not have such allowances in terms of traffic safety.
If you or a loved one has been involved in an accident involving an emergency vehicle, give our offices a call as soon as you can. Even if there are injuries or fatalities involved, you will need to file your claim quickly. There are definite limitations as to when someone can file a claim against a City, County, State or even Federal Government entity. That is why having an experienced legal professional on your side is your best course of action. We can help you recover the medical costs, the expenses of ongoing treatment and pain and suffering to get you what your case is really worth. We are here to help you. Your initial consultation is free.