Car Suddenly Catches Fire, Injuring 5.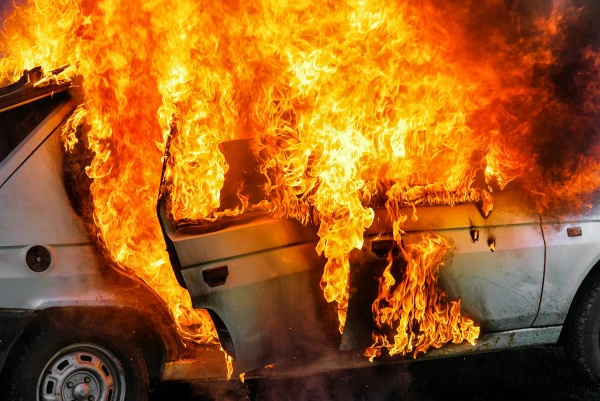 Car Suddenly Catches Fire in Dallas
A vehicle fire in Lake Worth on Wednesday night has left five people injured.
The car burst into flames at the Loop 820 near Azle Avenue at approximately 8:15 p.m.. Five people were in the car at the time that it ignited.
According to initial reports from Dallas police and fire departments, the victims include four men and one woman in their mid-20s. The burns on the bodies of the victims range from thirty percent and fifty percent of their bodies. Four of the five patients were airlifted to the hospital.
A witness to the accident, Erick Moya called 911 and told authorities and reporters that he saw the car come to a stop right before the inside of the vehicle caught fire. The vehicle then became engulfed so quickly that flames were seen outside of the car within seconds.
Mayo stated that he had witnessed four people get out of the car who were on fire. One man's body was completely engulfed in flame while others had flames on their arms or their leg
Both the man who was engulfed in fire and the woman attempted to roll on the ground in a nearby grassy area, but instead cased the grass to catch fire as well.
The cause of the fire is still under investigation. No details as to the condition of the victims has yet been released.
Anytime a car catches fire, the results are almost always catastrophic. The results of a car fire can cause burns which can result in permanent disfigurement, as well as damage to the internal organs in the body, including the respiratory system through smoke inhalation or even chemical burns. Burns are most definitely life-changing injuries that may require long recovery time and ongoing therapy and even rehabilitative and reconstructive surgery. You should not have to bear the costs of such harm. That is why we are here to help.
Our law offices will do all of the legwork and hire investigators to find out how and why your accident was caused. If necessary, we will retain experts concerning your car fire accident. Many factors such as manufacture, automobile design, and equipment failure can all play a possible role in your accident. Our expert witnesses will often do an accident reconstruction. If you have been the victim in an automobile fire, it is important that you call us as soon as you can. When you engage our legal services, we can obtain the evidence, secure and protect it for use in your case. Vehicles that have been burned are often kept for a very short period of time by police investigators or insurance companies and are then sold for scrap. Losing valuable forensic evidence such as this can mean the difference between winning and losing your case if it happens.
If you or a loved one has been injured or even killed in an automobile fire. Give our offices a call as soon as possible. One of our attorneys will meet with you, go over the details of your case and get things started. We can also act as a go between for you and the insurance companies so that you can focus on recovering from your injuries. Medical costs, rehabilitative care, time off of work due to injuries and funeral costs can add up quickly and it is easy to feel overwhelmed. You do have rights and we have successfully argued cases in the Texas legal system for our clients for many years. When you call for your initial consultation, it is without fee or obligation and is completely confidential.