Woman Dead after Brake Drum Crashes through Windshield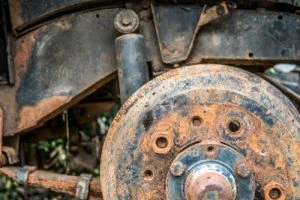 A Plano woman is dead after a part of an 18-wheeler smashed through the windshield of the vehicle she was driving on Interstate 20.
According to the Department of Public Safety, 33-year-old Zackquelyn Johnson and her three children were in a Jeep Liberty behind an 18-wheeler when a metal brake drum either fell or broke off of the truck and went through the windshield of Johnson's SUV. The impact of the flying debris caused them to leave the Interstate and collide with a road sign and rest area park bench.
Johnson and her 1-year-old child were hurt in the incident. Johnson later died as the result of her injuries two days later. Her child is still hospitalized.
Law enforcement officials said that the 18-wheeler which caused the fatal accident did not stop. Investigators are still trying to find the driver. If he is found, however, it is likely that he will not face charges. Officials do want to talk to him, however, because he may not be aware that something came off of his rig.
The 18-wheeler is described as a newer model gray truck that was possibly carrying a flatbed trailer with equipment on it.
Accidents involving 18-wheelers can be both terrifying and even deadly as this one was. Statistics across the nation indicate that each year thousands of motorists are either critically injured or killed in accidents involving big rigs. Receiving an injury because of a dislodged truck part, as in this case, is rare. Most of the accidents involving 18-wheel tractor trailers are due to the negligent operation of drivers. 18 wheeler driving and the often oversized loads that they carry can put the driving public in considerable danger on our highways and other roadways. Motorists who drive passenger cars have a clear disadvantage against large commercial trucks. This is why then nation requires them to have extra training and carry a different type of license than normal drivers.
There can be many causes of accidents involving big rigs such as driver inexperience, driver distraction or driver fatigue. The Federal Motor Carrier Safety Administration / has imposed strict hours of service laws nationwide. The State of Texas has similar guidelines that govern the driving hours of long haul truck drivers. The hours of service rules put out by the FMCSA outline how long drivers can safely operate their tractor trailers in a single day. Sometimes, however, there are truck drivers who will break those laws in order to just try to make a living. Some trucking companies will routinely give drivers unrealistic deadlines to go over very long distances where going against the hours of operation rules is almost a requirement.
If you or a loved one has been involved in an accident involving a tractor trailer, give our offices a call. Our attorneys will take the time to meet with you to the details of your case and will outline several options for your particular case. Medical costs, long term treatment and rehabilitation and ongoing expenses can all be a part of your accident claim. We are here to help you. Give us a call today. Your initial consultation with our law offices is confidential, free, and without obligation to you.