Greyhound Bus Flips, Injures 34 People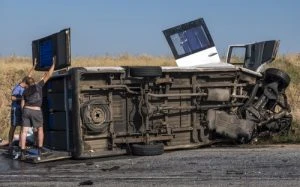 An accident involving a Greyhound bus that drove off an interstate highway in southwest Ohio has left 34 people injured. None of the injuries of the victims on the bus was considered life-threatening, though several people were trapped and had to be extricated by firefighters and paramedics.
The bus drove off the right side of northbound Interstate 75 about 25 miles north of Cincinnati at about 3:50 a.m. early Saturday, striking a tree and a fence. The bus flipped on its side before sliding to a stop in a nearby cornfield.
According to Butler County Emergency Operations Center officials, 34 people were taken to area hospitals. Six of the victims were taken by helicopters while the remaining 28 were taken to hospital by ambulance. Injuries of the passengers ranged from minor to severe.
The Greyhound bus had left Cincinnati and was bound for Detroit. The coach was carrying 51 passengers plus the driver. Passengers who were not injured in the crash and those who were treated and released were taken back to Cincinnati.
The cause of the crash is currently still under investigation.
The driver of the bus had been with Greyhound for almost 15 years had been on duty for only an hour and was fully rested, according to company spokesperson for Dallas-based Greyhound Lines, Inc., Kim Plaskett.
The driver was among the injured, however, the company declined to release the driver's name or medical condition due privacy laws.
According to Plaskett, the company is in full cooperation with investigators and will discuss details of the crash. Greyhound and investigators will be speaking with the driver in order to try and determine the root cause of the accident.
The bus just had just undergone its regular major annual inspection 14 days prior to the accident. Plaskett added that drivers also do pre-trip inspections to make certain that a bus is fit to travel.
While bus travel is one of the safest, least expensive ways for people to travel, every year, thousands of people are injured or even killed in accidents involving buses. According to the Federal Motor Carrier Safety Administration (FMCA), 13,000 buses were involved in accidents in the year 2010. The FMCA is constantly monitoring bus safety and accident statistics in the interests of making bus travel safer and insuring the well-being of passengers on a nationwide basis.
Insurance companies would rather deal with the claims of the injured directly. The last thing that they want is to have accident victims hire an experienced attorney. Insurance companies will do whatever they can to convince victims that they either do not have a case that is worth fighting for, that their initial settlement should be adequate. Insurance companies will rarely offer the full value of your claim unless you have legal representation that is looking out for your best interests, even if that means taking them to court.
Before you sign a statement or accept any settlement offer with anyone, give our offices a call. We will match you with an attorney who will act as a representative between you and the insurance companies. They will look after your best interests and will to make sure you receive just compensation. Injuries as the result of accidents can be expensive. Medical costs, the cost of rehabilitation, time off of work to go to doctor's appointments and all of the things to get your life back on track after a bus accident can add up quickly.
When our legal professionals start to work on your case, we will gather all of the information and evidence for your case. We will inspect the vehicles; visit the crash site with reconstruction experts that will take their own measurements outside of those assigned by insurance companies. With this information, we can reconstruct the accident and determine exactly how it happened. We will not just be representing you, we will be working to help you win your case so that you can receive a just settlement compensation. We have been successfully representing our clients in the Dallas courts for many years. If you or a loved one has been injured in an accident, give our offices a call to schedule a consultation at no cost or no obligation to you.