Child Returns to Soccer Despite Losing Leg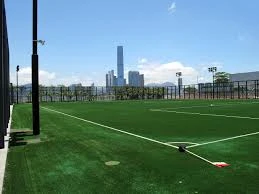 Children are naturally resilient. An example of that resiliency and tenacity was on display at a recent soccer games for 10-year olds and it drew quite a crowd of supporters.
For young Jeremiah Hart, who lost his leg when he was hit by a car just four months ago, it was a day of triumph just because of what he had to overcome in order to be at the game on Saturday. Jeremiah lost his leg when he was struck by a car, and some thought that his returning to the playing field was just a dream.
Seeing the large turnout was already a reward for Jeremiah. "When we got out here and saw everybody, he was very excited," Jeremiah's mom, Bridgett Hart, said.
In November of 2015, Jeremiah was pinned against a wall when an elderly driver mistook the gas pedal for the break while attempting to park his vehicle. Jonathan Train, Jeremiah's soccer coach, said that the accident the day after the team's championship celebration was a shock. "The next day we found out that he was hit by the car — and it's been an up and down roller coaster to this point."
It was Jeremiah Hart who got to kick out the first ball of the game on Saturday to a rousing round of applause. Coach Train didn't seem too surprised that Jeremiah's tenacity won out in the end.
"He's just got that 'never quit' attitude," Train said. "We're just blessed to have him here again."
According to Jeremiah's mother, Bridgett Hart, it was the love of the game of soccer that kept her son going. "This is what he lived for," she said. "This is what he fought for."
For a parent, there can be no greater concern than the safety and well-being of their children. Making sure kids stay safe can be a challenge even on the best of days. In most situations, kids can be out and about and be safe, however, even in the best of times and under the watchful eye of parents or those entrusted to their care, children can get very seriously hurt or even killed.
Jeremiah Hart, in spite of losing a leg to an accident, could have just as easily have lost his life. There is no doubt; however, Jeremiah's life is forever changed due to his injury.
If you or your child has been hurt in any kind of accident, give our offices a call. Their pain and suffering becomes yours and that can quickly add up in terms of time, lost wages from being off the job caring for your child and even possible long term care, as well as pain and suffering.
Our attorneys have years of experience in accident and personal injury cases in the Dallas Fort Worth area, and they can help you and your loved ones as well by helping you get every dollar of compensation that you deserve. Contact us today to schedule a free consultation.