Can You Get Permanent Damage from Whiplash?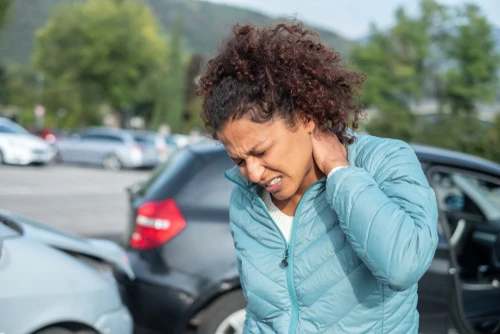 Whiplash is one of the most common injuries that car accident victims suffer. While most whiplash injuries heal with time and proper treatment, whiplash can sometimes lead to permanent damage and disability.
Let's look at what whiplash means, how it might affect an accident victim long-term, and ways to manage whiplash injuries after an accident.
What Is Whiplash After an Accident?
According to the Mayo Clinic, whiplash happens when a force whips someone's neck rapidly backward and forward, resulting in injury. During whiplash, the delicate tendons and muscles in the neck are stretched and strained.
Rear-end accidents are the most common cause of whiplash. However, other types of car accidents, physical abuse, and sports accidents can also cause whiplash.
Whiplash is a tricky injury because:
It can happen even during low-speed car accidents.
It does not show up on imaging tests like other injuries (but it can be incredibly painful).
The symptoms of whiplash often take time to manifest.
Insurance companies are unlikely to take whiplash injuries seriously after an accident.
A rear-end accident might cause debilitating whiplash pain even if you had minimal vehicle damage or visible injuries. The lack of other accident evidence might make it difficult to pursue compensation for an accident you did not cause.
If your accident left you with whiplash injuries, you can protect your legal rights by speaking with an experienced car accident lawyer in your area. We can connect you with the best legal professional for your situation — at no risk. To learn more during a FREE consultation, call (469) 998-4069 or contact us online today.
Common Whiplash Signs and Symptoms
Whiplash symptoms might include:
Neck pain and stiffness
Headaches
Lost range of motion
Pain when moving the neck
Dizziness
Shoulder, arms, or upper back pain
Arm tingling or numbness
Fatigue or irritability
You must see a doctor after a whiplash injury. Your doctor can help you begin treatment to reduce your symptoms and rule out other severe conditions from the accident.
Thankfully, most accident victims with whiplash heal within a few weeks (assuming they follow doctors' orders and keep up with treatment recommendations). However, severe whiplash can take six months or more to fully heal, and some injuries involving whiplash can become chronic.
Whiplash Can Become Chronic After an Accident
Untreated whiplash can cause permanent disabilities. Studies have shown that:
Around 50% of people with whiplash-associated disorders report pain a whole year after the injury occurred.
Up to 30% of whiplash sufferers will become moderately or severely disabled because of the whiplash.
Chronic Whiplash Symptoms
Permanent damage from whiplash can impact an accident victim's life on a large scale. The sufferer might experience symptoms like:
Severe headaches
Blurred vision
Dizziness
Irritability or fatigue
Jaw pain
Numbness or weakness in limbs
Neck or back pain and stiffness
Upper or lower back pain
Whiplash is more likely to cause permanent damage if it is unrecognized or treated. To prevent long-term complications as much as possible, we urge accident victims to seek treatment right after an accident — even if they feel okay. Seeing a doctor can ensure prompt treatment and attention to issues that might worsen with time.
Filing a Personal Injury Claim for Whiplash
If a car accident you did not cause left you with whiplash symptoms, you might be entitled to compensation for damages like:
Medical bills
Prescription medications
Rehabilitation
Lost wages
Loss of earning capacity
Vehicle repairs
Pain and suffering
You will need to know the full extent of your damages before filing your claim, so it's best to wait until your whiplash fully heals. A car accident lawyer can then help you calculate your full damages to know what type of settlement you deserve.
Each state treats personal injury claims a little differently, but most use a concept like proportionate responsibility. In Texas, you can seek compensation for your accident damages as long as you were not over 50% at fault for the accident (Texas Civil Practice and Remedies Code Section 33.001).
To learn more about your legal options, reach out to an experienced car accident lawyer today. We can match you with the best attorney for your needs during a FREE, no-risk consultation. Call (469) 998-4069 or contact us online to get started at no cost today.
What to Do After a Whiplash Accident
If another driver hit you and caused your injuries, there are things you can do to begin building your case. Here are some actions we recommend taking right away if you can.
Report the Accident
Any Texas car accident with injuries, deaths, or at least $1,000 in property damage should be reported to the police. Since whiplash injuries take time to show up sometimes, it's best to report the accident even if you're not sure whether you have injuries.
Call 911 to report the accident and request emergency medical treatment you might need. Reporting the accident will cause the police to create an accident report, which is the first official piece of evidence proving the accident occurred.
Document the Scene
Preserving the scene of the accident is vital after any wreck. If you can, take pictures of the accident scene, your injuries, your vehicle damage, and anything else that helps show what happened.
Exchange names, contact information, and insurance information with the other driver. Also, if anyone saw the accident happen, talk to them and ask for their contact information. Your lawyer will reach out to them later for witness statements.
Keep Track of Your Damages
If you did not need emergency medical attention at the scene, see a doctor as soon as possible afterward. Even if you don't yet feel any pain, get checked for whiplash and other potential injuries.
Keep track of all costs that you suffer because of the accident. Your lawyer can help you compile evidence of your damages to show how the accident impacted you and what you deserve in compensation.
After the accident, you will need to deal with the at-fault driver's insurance company. Frustratingly, insurance companies rarely take whiplash injuries seriously. However, a whiplash accident lawyer can help protect your rights and ensure you are treated fairly during the claim process.
Speak with a Whiplash Accident Lawyer for Free Today
To get matched with the best, most experienced lawyer to help you with your car accident claim, call (469) 998-4069 or contact us online. We'll listen to your concerns and get you the help you need during a FREE consultation. Also, you don't pay a fee unless we win your case.
Call (469) 998-4069 or contact us online to get started for FREE today.
Frequently Asked Questions