How Many Accidents Are Caused by Distracted Driving?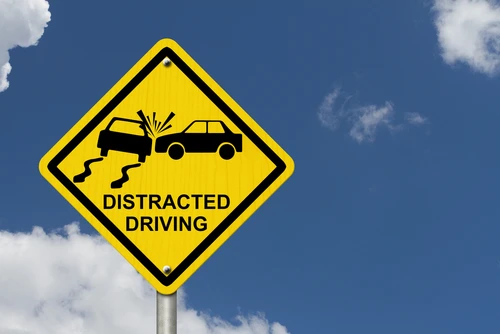 According to the Centers for Disease Control and Prevention (CDC), distracted driving means driving while doing some other activity that removes your attention from driving. Considering how distracted driving is the leading cause of car accidents, too many crashes are caused by distracted drivers.
If a distracted driver caused your accident, you might be entitled to financial recovery for your losses. We can connect you with the best distracted driving accident lawyer for your case for FREE. To get a FREE consultation and learn more, call (469) 998-4069 or fill out one of our online contact forms.
Statistics on Distracted Driving Accidents
One out of every four accidents is caused by texting while driving in the U.S.
Further, distracted driving causes over 1,000 injuries and about nine deaths from accidents every day in the United States, according to crash stats from the National Highway Traffic Safety Administration (NHTSA).
The statistics show that distracted driving is a problem:
Texting while driving accidents cause almost 390,000 injuries every year.
Cell phone use while driving causes 1.6 million accidents every year.
In 2016, 9% of deadly crashes were reported as involving distracted driving.
That same year, 2,450 people died in car accidents involving distracted driving. Also, distracted driving crashes killed 562 non-car occupants like bicyclists and pedestrians.
Drivers between the ages of 15 and 19 make up the most substantial portion of distracted drivers in fatal accidents.
Shockingly, the number of accidents caused by distracted driving far exceeds those caused by drunk driving. Texting while driving is six times more likely to lead to a crash than driving drunk.
How Distracted Driving Causes Accidents
Texting while driving is one of the worst forms of distracted driving, but it's just one example. Other types of distracted driving include:
Eating or drinking while driving
Talking to passengers while driving
Managing kids or pets while driving
Messing with the radio or GPS while driving
Checking social media or email while driving
When someone reads, types, or sends a text while driving, it removes their attention from the road for around five seconds (or more). When someone is driving at 55 miles per hour, their vehicle can travel the length of a football field in the short time it takes to text. With that fact in mind, it makes sense why texting and driving increase distraction from the road by 400%.
Three Types of Distraction That Lead to Accidents
There are three types of distraction that a driver can experience on the road:
Visual disturbances that take the driver's eyes off the road
Manual distractions that remove the driver's hands from the wheel
Cognitive distractions that take the driver's mind away from driving
All of these distractions can be deadly, especially when an activity causes all three types. Texting while driving leads to visual, manual, and cognitive distractions.
Teens Are More Likely to Be Involved in Distracted Driving Accidents
According to the NHTSA, drivers who are younger than 20 have the highest number of fatal accidents that involve distracted driving. Teenagers are more likely to engage in risky behaviors, such as being on their phones while driving.
A national Youth Risk Behavior Surveillance System (YRBSS) created by the CDC found that:
Forty percent of high school students in 2017 said they sent a text or email while driving in the past 30 days.
High school students who often text and drive were also less likely to drive drunk, not wear a seat belt, or get into a vehicle with a driver who has been drinking.
Most teenage drivers know that texting while driving is dangerous, but around 35% have said that they still do it anyway.
What to Do if You Were Hurt in a Distracted Driving Accident
If a distracted driver's actions caused your car accident, you have legal options. You are probably entitled to compensation for your damages, which you can seek by filing a personal injury claim with the at-fault driver's insurance company. Here are some ways you can help build your case and protect your rights.
Call the Police
You should call the police to report the accident after a crash with injuries, death, or property damage. Telling the police about the accident will cause them to create an accident report, which is vital for your case.
Also, distracted driving accidents tend to be very serious. If you or anyone else involved in the accident has severe or life-threatening injuries, call for an ambulance or tell officers at the scene that you need medical attention.
If you could tell that the at-fault driver was texting or engaging in another distracting activity before your accident happened, tell the police. They can investigate the driver's actions.
Document the Scene
If you can, take photos of the accident scene, your injuries, and your vehicle damage. Talk to any potential witnesses and ask for their names and contact information. If you work with a distracted driving accident lawyer, they can contact witnesses for statements to support your claim.
Note anything else about the scene that might help your case, such as traffic surveillance cameras.
Keep Track of Damages
When you file your claim, you'll need to include proof of your damages. Providing evidence will increase your chances of a fair settlement offer and potentially speed up the process. Save all medical records, bills, receipts, quotes, and other evidence of your damages.
Get Help From an Experienced Lawyer
Contact a lawyer as soon as possible to discuss your case. A distracted driving accident lawyer can look at the details of your accident and let you know your legal options.
Your lawyer can also help protect you from the other driver's insurance company. Insurers care most about their bottom line, and they will look for anything to help reduce the value of your claim. Your lawyer can communicate with the insurer on your behalf and make sure no one takes advantage of you.
Get a Free Consultation with a Distracted Driving Accident Lawyer During
If a distracted driver caused your accident, don't wait to get the help you need. Our Dallas car accident lawyers know what it takes to win, and we can connect you with the best attorney for your case.
Contact us today, and we'll get you started with a FREE consultation. To get started for FREE today, call us at (469) 998-4069 or contact us online today.
Frequently Asked Questions