Vehicle Accidents Don't Just Come From Crashes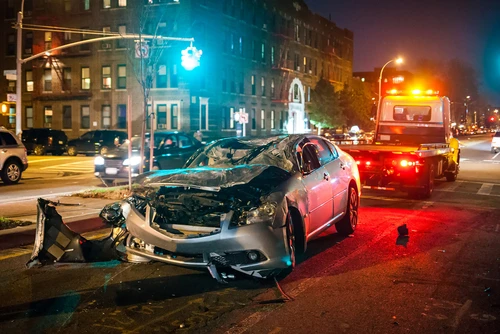 All too often, the horrors of human trafficking and human smuggling go unreported because of the sheer enormity of the problem. Last week in San Antonio the horror became all-too-real for 10 people who lost their lives with 20 others were hospitalized in what is being called a human trafficking incident.
According to a recent article which appeared on the Dallas CBS local website and in a recent report that aired on CBS This Morning, more than 100 people were jammed into the tractor trailer without food or water. The tractor trailer had a broken cooling system.  The people trapped inside took turns getting air from just one small hole in the trailer with no relief in sight as it sat in the sun in the parking lot of a San Antonio Walmart.
The exterior temperatures under the Texas sun reached more than 100 degrees Fahrenheit and the people trapped inside had been pounding on the walls of the trailer crying to be let out. When they were finally released, according to San Antonio Fire Chief, Charles Hood, "their skin was very hot to the touch. So these people were in this trailer with any signs of any type of water." Eight people were pronounced dead at the scene with 20 additional people being transported to area hospitals, many determined to have life-threatening conditions.
The truck driver, James Matthew Bradley, 60, appeared in federal court in connection to the 10 deaths. He has been charged with illegally transporting migrants for financial gain resulting in death. Bradley told investigators that he was completely unaware of the human cargo that he was carrying in spite of the pounding and cries from the people inside the rig.
Bradley, a resident of Clearwater, Florida, did not enter a plea and was assigned a public defender. Bradley lost his CDL in the state of Florida for failure to produce a medical card. Another hearing has been scheduled for Thursday. Bradley could be facing the death penalty in the case.
Some of the victims inside the trailer indicated that they were from Mexico while others came from various locations in Central America. The ages of the people in the truck ranged in age from approximately 10 years old up to adults in their 20's and 30's.
The truck itself was both licensed and registered in the state of Iowa. The registered owner of the 18-wheeler is Pyle Transportation of Schaller, Iowa. No company spokesperson has commented on the incident.
Acting ICE director, Thomas Homan, indicated that when authorities arrived 39 victims were at the scene. Others who had also been there fled or managed to get rides to their next destination. Homan said that the driver is just one person in the case and that ICE along with Homeland Security is investigating to prosecute other parties responsible in the incident.
The US Border Patrol has indicated that so far in the month of July there have been four other truck seizures in and around Laredo. One of the seized vehicles was carrying 72 people from Mexico, El Salvador, Guatemala, and Ecuador who also had no way to escape from the vehicle that they were being transported in.
In 2016 there were a reported 7,572 cases of human trafficking that were reported. Of course, that doesn't even begin to touch on the number of unreported cases which are estimated to be much higher. The Federation for American Immigration Reform (FAIR) estimates that some 17,000 to 19,000 people are illegally trafficked into the United States annually. It is important to remember that even those who enter the U.S. illegally are entitled to humane treatment. Victims are eligible to seek compensation for the violation of their rights under current U.S. Law. In such chases it is important to have an attorney who will work for you.
If you or someone you love has been hurt through no fault of their own, contact our law offices today. In the Dallas- Fort Worth area, our attorneys have a proven track record of seeing that justice is served and getting our clients all of the compensation that they are entitled to.
Contact our offices today to speak with one of our lawyers. They will carefully go over the details of your case and all legal options that are available for you. You can rest assured that your initial consultation and legal analysis with us is free and is without any obligation to you.