Same Driver Kills Several in Multiple Accidents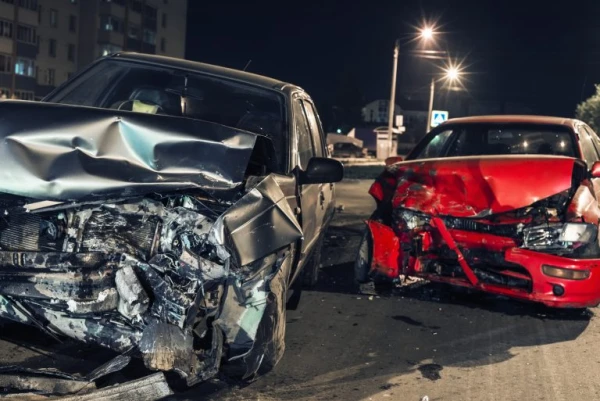 Police with the Fort Worth Police Department are investigating a crash on the northbound W. Loop 820 that happened early Monday that has left a child and an adult dead.
Shortly after 1:00 a.m., a disabled vehicle was reported along W. Loop between Westpoint Boulevard and White Settlement Road near the Naval Air Station Joint Reserve Base in Fort Worth. According to early reports by investigators, a woman and her two young children were in the disabled car.
The woman and children, ages unknown, had gotten got out of their vehicle had been standing on the shoulder when they were struck by another vehicle. One of the children was killed in the accident, while the mother and another child were injured. Mother and child were transported to a nearby hospital.
The same car that crashed into the disabled car is also believed to have crashed into two other vehicles earlier, an El Camino and a Honda, which also ended in injuries. The driver of the Honda was also killed, while the driver of the El Camino was taken to the hospital with injuries. The final details as to the cause of the accident have not yet been determined and are still under investigation.
Accidents involving disabled vehicles being hit by other vehicles happen all-too-often. A car becomes disabled and the driver tries to pull off the road. Another driver does not see the stopped vehicle and collides with it. In a recent government report, in 2009 18.6% of all crashes happened when a vehicle was pulled off of the roadway and were on the shoulder or median. Some 9000 accidents in 2009 reported injuries, 366 of these accidents were listed with fatalities.*
No one ever wants to break down on the road. Breakdowns on highways or freeways can be extremely dangerous. It helps to know what to do if your own vehicle becomes disabled or breaks down on a highway or freeway. Following these precautions can help to keep you safe.
* If your vehicle breaks down in the middle of traffic and you aren't able to get to the side of the road, call 911 and put your emergency flashers on so other drivers are able to see your vehicle.
* Remain inside of your vehicle until assistance arrives. Emergency vehicles can help too move you and your vehicle so that you are safely off the road. If you have called for a tow vehicle or emergency roadside service, wait inside your vehicle until help arrives. This will ensure yours and your passenger's safety while you wait.
* Try to make it to the shoulder or off-ramp if you can. Try to move your vehicle as far to the right as you possibly can. Again, make sure your emergency flashers are on to alert other drivers to your presence so that they can slow down and get over.
* If for any reason you need to get out of your vehicle, do not turn your back to traffic. Be constantly aware of what is going on around you. If the vehicle must be left, leave a note on the dashboard for law enforcement officers. Be sure to leave your contact information and a brief explanation of what happened.
Even with every effort made toward safety, accidents can happen along busy highways and freeways. If a loved one has been killed in a freeway or roadside accident, give our offices a call. Our attorneys have years of experience in the Dallas courts and can help you get the compensation you deserve. Medical expenses, long term care, permanent disability and even death can all be caused by roadside accidents. We will match you with an attorney who will listen to your case and give you several options to proceed. When you have us working for you, we can act as your point of contact with insurance companies and others and let you concentrate on getting your life back on track. Call us today. Your initial consultation is without cost or obligation.
* See: Table 28 on page 51 of 2009 Motor Vehicle Crash Data URL – http://www-nrd.nhtsa.dot.gov/Pubs/811402EE.pdf