Oil Well Explodes in West Texas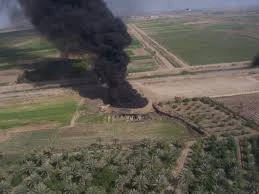 Worker safety in a high risk profession is of concern, not only to the workers who are on the job every day, but to employers and government regulators as well.
On Tuesday, federal safety regulators have cited a well service company in West Texas after a rig in an oil field exploded and three workers tragically lost their lives.
The Occupational Safety and Health Administration (OSHA) has proposed over $50,000 in fines being levied against Mason Well Service of Odessa.
Mason Well Service has been cited for five serious workplace violations and one repeated violation in connection to an explosion that occurred on March 10th near Rankin. The accident happened just as workers were installing a blowout preventer.
The blast claimed the lives of Arturo Martinez Sr., Arturo Martinez Jr. and Rogelio Salgado. All three of the victims in the explosion were related to each other.
According to federal officials, Mason Well Service failed to prevent contact between an ignition source and flammable liquids and gases, and did not ensure workers were wearing personal sulfide monitors and flame-retardant clothing.
Mason Well has 15 business days from the date of the issuance of the citation in order to comply or contest the findings.
On the job accidents can happen at any time and suffering a serious injury on the job can be devastating. For a single family to undergo the loss of any life is overwhelming. To lose three members in a family seems almost unthinkable and can feel like an impossible weight to have to bear. The tragedy of funeral costs, the pain and suffering and lost income can add up and leave families feeling as if there is nowhere to turn.
Before you sign anything with your insurance provider or your employer, give our offices a call. We will act as your point of contact to make sure that you are fairly compensated. If you or a loved one have been injured on the job or have suffered a loss due to a workplace injury in the Dallas area, our experienced attorneys are here to give you the best advice for your personal situation. Contact us today for a free consultation and legal analysis.