Guardrail in Road Sends Prison Bus Flying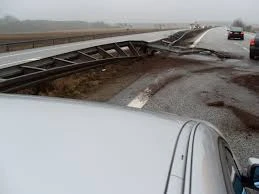 Road debris doesn't have to be big to cause a major accident, but when it is big the results can be devastating. A prison bus in west Texas was part of a freak accident that killed eight people and sent four more to the hospital.
The bus was traveling down an icy I-20 and passed an 18-wheeler. A damaged piece of guardrail that had previously been coned off had worked its way into the passing lane by about two feet. When the bus hit the guard rail, it skidded off the road.
The bus travelled down an embankment and became airborne. What stopped it was a freight train in motion. The new bus was totaled in the incident and many of the prisoners were flung out of the bus by the force of the impact. They were not restrained in their seats, just handcuffed to another prisoner.
The NTSB is investigating, but local police said that an earlier crash may have displaced the guard rail to cause the dangerous situation.
Sometimes freak accidents happen, but there is always a cause. If that cause can be traced back to the negligence of someone then you may be eligible for compensation. Call our law offices if you believe your injury accident was the fault of someone else. Our Dallas team is ready to help you.