Girl in Critical Condition after DUI Accident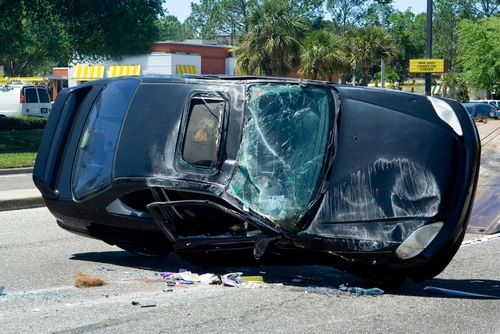 A girl has been left in critical condition at Dallas Children's Medical Center, while five other children have been hospitalized following an accident in the early morning hours that involved an SUV and a suspected drunk driver.
Dallas Police say that the crash occurred at Garland Road and Buckner Boulevard just before 1:00 a.m. near the Casa Linda Shopping Center. A man driving a blue Chevrolet pickup truck ran a red light, colliding into a red Lincoln Navigator that was carrying six children and three adults.
As their vehicle spun from the impact, five of the children in the Lincoln were ejected, All of the children were taken to Children's Hospital. Their names and conditions have not yet been released, with the exception of a 13 year-old girl who was injured being listed in critical condition.
A police spokesperson said that the driver of the pickup, a 26 year-old whose name has not been released, tried to flee the scene on foot following the accident, but was prevented by witnesses of the crash who kept him surrounded until police arrived on the scene.
The driver of the pickup was taken to Baylor University Medical Center in Dallas. The man, the sole driver in the pickup truck, was reported to have complained of neck and back pain. The man has been charged with intoxication assault in this accident along with an additional charge from Rockwall County.
Law enforcement officials hope that the red-light camera at the intersection captured the accident. Witnesses told police at the scene that they did see the camera flash as the pickup ran the red light.
DUI or DWI accidents tend to be more serious because these accidents are often more serious in terms of both injuries and fatalities. A driver convicted of DUI, intoxication assault, even with a first time offense, can spend years in jail, face heavy fines, many hours of community service, face paying reparations and damages as well as loss of license, insurance coverage or both.
In the state of Texas, the charge of intoxication assault in connection with a DUI is considered a third degree felony. The Texas State Code defines the charge as being when:
"…a person commits an offense if the person, by accident or mistake, while operating a motor vehicle in a public place while intoxicated, by reason of that intoxication causes serious bodily injury to another. "Serious Bodily Injury" means injury that creates a substantial risk of death or that causes serious permanent disfigurement or protracted loss or impairment of the function of any bodily member or organ."
If you or a loved one has been involved in a serious car accident where alcohol has been a factor, give our offices a call. Our lawyers have many years of experience in the Texas legal courts with DWI cases. We can help you to recoup not only the cost of damages to your own vehicle, but also can help you be justly compensated for the costs of medical treatment, loss of work or wages, pain and suffering and possible permanent disability as the result of your accident. We can also help you to deal with the insurance companies and health providers as well as other long term care issues. We will assist you in finding the best possible course of action for you and your loved ones to take. Your initial consultation with one of our legal professionals is free.