Drunk Driver Goes Into Oncoming Traffic, Jackknives Trailer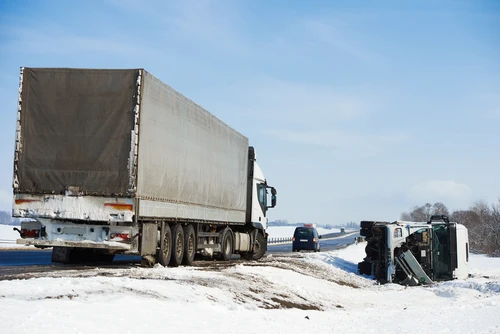 An accident involving a car and a big rig on Highway 75 in Collin County shut down the highway for a number of hours. Wreckage was strewn across several lanes of traffic and caused snarls for traffic travelling in both directions of the highway. The driver of the car was airlifted by helicopter to a nearby hospital.
Investigators say the big rig was travelling South on Highway 75 when a white Mitsubishi travelling north in the southbound lane. The two vehicles collided and the smaller vehicle stopped in the southbound lanes. The crash caused the semi to jackknife into the northbound lanes of traffic.
The driver of the Mitsubishi, who is listed in critical condition, will be charged with driving under the influence of alcohol.
The driver of the 18-wheeler was treated at the scene by paramedics with only minor injuries from the crash.
Wrong way accidents occur when a vehicle enters a lane with on-coming traffic going in the opposite direction. When a vehicle is going the wrong way down a street or highway, it can result in a head-on collision. Because both vehicles are heading toward each other, often at a higher rate of speed, there is usually very little a driver can do in order to avoid the collision. Head-on accidents cause massive damages to the vehicles that are involved and often result in very serious injuries or even death for the victims.
Often, those who drink and drive frequently become disoriented and do not realize what direction they are headed in, even if warning signs are clearly posted. Driving under the influence of alcohol or drugs profoundly impairs a driver's judgment and reaction time and can be the ultimate cause of tragic and even fatal accidents. The crime of drunk driving in the state of Texas carries heavy consequences for those who decide to get drink and drive. In Texas, the legal blood alcohol level that a driver must have to operate a vehicle is below 0.08%. For truck drivers or for holders of a standard driver's license, the legal limit for blood alcohol level is set at 0.04% or below. The lower limit for commercial driver's license holders is the law in all 50 States.
If you or a loved one have been seriously injured in an accident involving a wrong-way or drunk driver, give our offices a call. One of our experienced attorneys will arrange a meeting with you to discuss your personal injury case. Accidents involving head-on collisions and collisions with drunk drivers can have very long recovery times. Medical expenses, long term care, time off of work, as well as insurance and other cost can become overwhelming. We have years of experience of successfully representing our clients in personal injury and accident cases. By law, you are guaranteed the right to compensation. Don't delay; call to arrange a meeting with one of our lawyers that is both confidential and without cost or obligation to you.