Another Tragic Hit and Run in Grand Prairie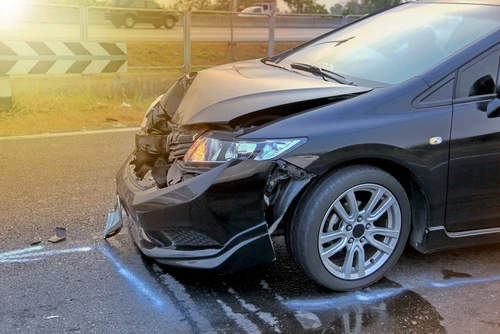 A Grand Prairie man has been arrested following a deadly hit and run accident in Fort Worth on Sunday. The accident occurred about 3 a.m. on Sunday along the southbound Interstate 35 service road near E. Seminary Drive. One person was killed and another was critically injured.
Christopher Simon, 29, was tracked down by police and faces a charge of an accident involving death. Witnesses told police two men were standing near a pick-up truck when a white SUV driving fast swerved and hit them, then drove away. Police found white vehicle parts and a Navigator logo at the scene. A few hours later, police said a suspicious vehicle call led them to Simon's SUV, which had blood on it.
Simon is currently in custody in the Mansfield jail on a $100,000 bond.
Hit and run accidents are considered a very serious crime in the state of Texas. A hit and run accident is probably one of the worst types of accidents that can happen to anyone. To be hit by another driver that does not bother to stop is nothing short of a nightmare. Whether it is either indifference or fear that causes a person to run after hitting and injuring another motorist, bicyclist, or pedestrian, it's a very serious charge. Law enforcement is becoming more successful in catching culprits.
If you are ever involved in a serious accident, sometimes there is a real desire to run. Resist the temptation to flee. Never be tempted to leave the scene of an accident before the authorities arrive on the scene. If you do have the misfortune of ever being involved in an accident, and there are personal injuries, or the tragedy of a fatality, you must immediately stop your vehicle at the scene of the crash. Further, you must do this as close to the scene of the accident as you possibly manage safely. You are also required to render aid to the injured if at all possible. Failure to one or the other or both of these legally required actions can potentially result in criminal charges being filed against you.
If you are involved in such an accident, leaving the scene of an accident can result in up to 30 years in prison for the charge if you are convicted of the charge. The law is clear that you must remain at the scene of the crash until you have been released by law enforcement officers.
After the accident, you will need to have the benefit of competent legal representation behind you. Don't sign anything until you have spoken to a lawyer who is there to work for you.
If you or a loved one have been involved in or the victim of a hit and run accident, call our offices as soon as possible. We will get your case started for you once you've had a chance to see a doctor. As soon as you are able, our attorneys will take the time to sit down with you and discuss your case. Most importantly, we have years of experience in the Dallas-Fort Worth area and have successfully argued accident cases in the Texas courts for our clients.
Our attorneys can assist you in recovering medical costs, rehabilitative care, and the expenses of ongoing treatment as well as the pain and suffering that often accompany serious accidents. We are here to help you to get you what your case is really worth. Our lawyers are on your side and we are here to help you. Your initial consultation is free and there is no obligation to you.