What Should You Do After a Car Accident?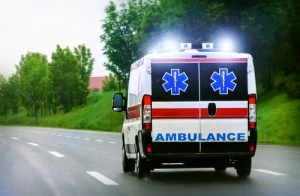 Earlier this week, four people were injured when a car accident took place on U.S. Highway 175. Though the details of the accident are still unclear, it appears that a pickup truck hit a police car from behind—and the force of the collision sent them both off the roadway and into a field. As a result of the accident, four people were transported to Baylor Medical Center, in Dallas, where they were treated for injuries and were in stable condition. While the crash is still under investigation, there is a chance that those injured will be able to sue for damages.
Regardless of the details of the case, here is a list of steps you should take immediately after you get in a collision:
1. Call the police! Many times, insurance companies will need a police report from the accident before they can provide coverage. How can you get a police report? By requesting that a policeman come to the scene of your collision.
2. Make sure those who are injured are taken care of.
3. Seek the proper medical attention quickly for your own injuries.
4. Get the names, addresses and telephone numbers of all drivers and witnesses involved in the accident. Here is some of the most crucial information you should collect:
Name of Driver:
Driver's Address and Telephone Number:
Driver's License Number:
Vehicle Plate Number:
Names of Witnesses:
Witnesses' Address and Telephone Number(s):
5. Exchange insurance information.
6. Make sure you take ample photographs of the accident scene, injuries, and any damage on all involved vehicles. If you don't have a camera, take one on your phone—regardless of how you take it, a good photograph of the incident could make or break your case to the insurance company.
7. Before making a statement to insurance companies, speak with your attorney regarding your rights. After a collision, insurance companies will call you to get statements about your accident. Unless it is your insurance company calling to ask questions to help your case, opposing companies will only call to find any reason they can to pay the least amount of damages for your case. Most importantly, they are looking for a statement that could harm your credibility before the courts. In situations like these, what you say could drastically affect the coverage you receive. Therefore, it is important that you don't make any statements until you have hired, and spoken with, your attorney.