Two Fatal Crashes in One Day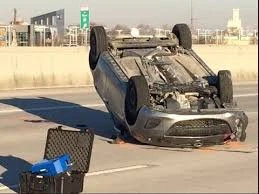 It's an unfortunate fact – accidents can happen at any time and almost always when you least expect them to happen.
According to the Oklahoma Highway Patrol, two people have been killed in two separate automobile crashes last week.
The first victim has been identified as Richard Joseph Vickro, 29, after the vehicle he was driving went off a Texas County road located southeast of Graymon. Vickro had been traveling northbound when he swerved, causing his vehicle to veer off of the roadway. The vehicle then rolled, ejecting Vickro.
The second victim has been identified as y Jimmie Dan Lackey, 65, of Broken Bow. Lackey was traveling eastbound on a country road in McCurtain County near Broken Bow when the pickup truck he was driving went off the roadway. The truck overturned and threw him Lackey partially from the vehicle. .
If you or a loved one has been involved in an accident and has been seriously injured or lost their life, that's the time when you need to have an attorney working for you.
Having to face the medical costs, long term treatment or the tragedy of funeral expenses is something no one should have to go through alone. When you call, we will go over the information about your case with you and then will outline several options to help you in your accident lawsuit.
If you live in the Dallas-Fort Worth area, we are here to help. Contact us today to schedule your free initial consultation and legal analysis.